Media
David N. Kornhauser and Michael A. Kleinman are seasoned lawyers with unique and significant experience in all areas of franchise law, including new undertakings, dispute resolution, and dissolution of franchisor and franchisee relationships if necessary. They have individually and collectively acquired unique and extensive knowledge of this complex subject. They generously share their knowledge with fellow legal professionals and individuals working in the franchising industry.
Radio shows
Listen to Mr. Kornhauser's guest appearances. Franchising is a thriving industry in Canada, and it provides unique benefits and opportunities for franchisors, franchisees, and franchise associations. However, it also presents a unique set of challenges for all parties involved. This is largely due to the unusual and complex relationships between franchisors and franchisees. With extensive experience in all aspects of franchise law, Mr. Kornhauser has a wealth of knowledge, which he shares generously.
As a frequent featured guest on the popular radio show "Ask the Experts," which airs on Newstalk Radio 1010, Mr. Kornhauser speaks with callers, answering common questions and provides valuable information for those considering or involved in franchise related businesses. You can listen to previous shows at any time from the links below.
Recent Radio Shows
Book – Franchise Associations in Canada
The popularity and profitability of the franchising industry are undeniable. Unfortunately, it is also poorly understood. Knowledge of the unique complexities of the relationship between franchisors and franchisees, along with the role of franchise associations, is the foundation for successful endeavors in this thriving industry.
Co-authored by Mr. Kornhauser and Mr. Kleinman, Franchise Associations in Canada is a comprehensive guide to the many aspects of franchising. The publication is presented in two parts. First, it guides the reader through legal and business considerations, explaining both the perspective of the franchisor and the perspective of the franchisee. Franchise associations have the ability to equalize the informational and economic disparities, as well as the bargaining power between franchisees and the franchisor. The second part of the publication explains the mechanics and benefits of creating a franchise association. Follow the link below to order your copy.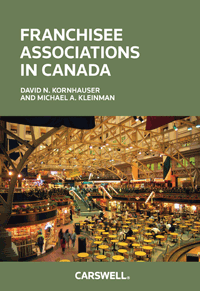 BUY NOW
Articles
Rating:

5

The Franchising Forum Reviewed by

Alex Shtein

Director of Operations, BarBurrito Restaurants Inc.

I have had the pleasure of working with David Kornhauser for about 2 years now. My experience working with him has been fantastic. Always accessible and very knowledgeable, his work his of the highest quality and his customer service is exceptional. I would (and have) recommend David without any hesitation.

Rating:
Reviewed by Valerie and Dr. Ahmad Belfon

We would like to thank you for the months and months of support, sound advice and hard work. You are a true credit to the franchising community and to your profession. We will never forget and always be grateful for your help.
Rating:
Reviewed by Valerie and Dr. Ahmad Belfon

We would like to thank you for assisting us with this closing. You have provided us with excellent legal counsel. Your diligence, attention and patience with us have gone above the call of duty. We are very fortunate to have a lawyer of your caliber, competence and responsiveness working for us. Thank you once again for all you have done.
Recent Radio Show
Subscribe to our Newsletter